Drop Ship
Digitalzone2u offers a dropship program with no registration fee! Benefit from a wide selection of electronic gadgets and consumer products at no cost. You close the sales and collect your money up-front, then we will ship the products to your customer with your name printed on the packing slip. You may set your own selling prices or markup our wholesale price. You determine your own profit margin.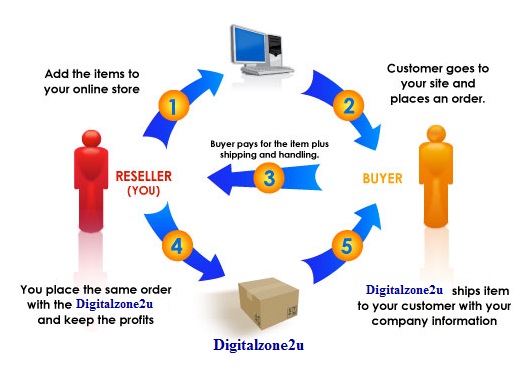 So, What Is "Dropshipping"?
 Drop Shipping means buying products cheaply from a secret low-priced source, and then your supplier – not you – does all the work of packing the goods and sending them to your customer.
At Digitalzone2u, you shall find that Wholesale Dropship is a great system that enables you to make money by sourcing hot electronic gadgets directly from the low cost source.
Normally, when you buy from wholesalers, you have to buy in large quantities. However, with dropship wholesaler Digitalzone2u, you get low prices even on small quantities.
To start dropshipping, simply create orders on Digitalzone2u with your customer delivery address and we will ship direct to them. No special conditions or membership is currently required, anyone can start.
Everything you see in the catalog at Digitalzone2u.com.my, you can sell. No complicated agreements, no contracts, no restrictions – it is a wide open profit opportunity for you.
What are the Drop Shipping Benefits at Digitalzone2u?
Digitalzone2u drop shipping services are completely free with all the benefits listed below:
·  Wholesale Factory-direct Pricing
You might wonder why the prices in our electronics store are very competitive. The reason is simple: we source all our gadgets direct from factories in bulk and offer it to you at lowest prices on the web. Besides low prices, we also help you break down the language and cultural barriers as well as high minimum order quantities that entrepreneurs face when they try to source themselves from supplier. At Digitalzone2u, you will not face these constrains and you can start ordering from as small quantity as one piece!
·  All Electronics And Gadgets In Stock
Digitalzone2u strives to be the number one drop shipping supplier in Malaysia, by making sure all orders can be processed smoothly. As one of the drop ship companies, we understand completely that you want to provide good service to your customer by shipping out fast. Digitalzone2u makes it happen by only selling gadgets that are in stock and good quality, so that our in-house logistics team can pick, pack and ship it out within the shortest time.
·  6 Months Warranty
We are confident about our electronic devices and we want you to feel confident to. That's why all products come with a 6 months warranty. Due to strict and professional quality control procedures, we usually experience very low amount of product issue cases. However, if this happens, you can just drop an email or raise a ticket to us, or even online chat with our English speaking Customer Support, so they can help you further to solve the case. Provide your order number and the details of the issue that you or your customer is experiencing.
·  Multi-lingual 24/7 Customer Support
Digitalzone2u support staffs speak and write fluent in English, Bahasa Malaysia and Chinese (Mandarin), and it is 24/7 available to answer your pre-sales and after sales questions. Simply click the livechat button on the right corner of the main page on our website to start chatting, or drop us an email, our support staffs are more than happy to assist you.
How Does Drop Shipping Work At Digitalzone2u?
You make at least one online purchase (any item) at our website;
Then register free at Digitalzone2u, we will convert your account to dropship account;
Subsequently, you choose any products from Digitalzone2u that you think will sell;
You decide your own pricing and list the products for sale in your online shop, on eBay, in your local newspaper, social media – facebook – anywhere you can sell to interested buyers;
When you get an order, you collect payment from your buyer first, and then make the order on Digitalzone2u for the goods;
Digitalzone2u delivers the products directly to your customer;
Your buyer receives the goods "from you" and you have another happy customer, ready to buy again from you in the future!
As a Digitalzone2u dropshipper, you can use our website product descriptions and photos for use on eBay and other websites.
What's Involved In Starting My Own Dropship Business?
You can start your business without any large initial investment;
You don't have to buy in bulk – just order minimum quantity after you get paid by your customers;
You can 'stock' your online shop with a huge range of products, effortlessly;
All the item descriptions and pictures, you can just copy from your supplier;
You can list items for sale, and if they are not popular, you do not lose anything… you can test your market risk-free;
No warehouse costs and no risk of 'dead' stock;
No need to worry about packing and shipping: your dropship wholesaler takes care of packing materials, shipping labels, paying couriers for delivery, and even making sure all accessories such as power adapters are right for different regions;
You can sell to customers anywhere in the world;
You set your own prices and profit every time you sell something!
Dropshipping is as easy as 1-2-3! Profit from Your Own Business Today!                   
Register for a Free Account
Getting started with us is free, simple, and fast. Just make at least one online purchase at our website, then register with us using online form and that's it!
No minimum orders, no monthly fees, no contracts, and no obligations. As soon as your registration is complete and approved, you can get your very own business started! Register now!
We carry over hundred types of electronic gadgets and consumers stuffs for you to choose from, and the number of products are growing everyday! Remember, we will hold the entire inventory for you so you don't have to worry about storage availability on your end. Browse through our web catalogue now and see all the variety you can be listing on your web store!
Product Listings For Your Store
After you have registered and approved become our drop shipper, you are allowed to list our items on your web store. Which items, how many items you list and what price you want to sell to your customers will be entirely up to you!
We Will Handle Your Customer's Orders
When your customer places an order on your web store, all you need to do is place the same order with us and we will take care of the rests! We will pick up the items, pack them perfectly, and get it shipped out as soon as possible! We keep everything simple, just for you!
We Ship Directly To Your Customers
We will ship your customer's orders for you so they receive them in a timely manner. There is no need for you to make a trip to the Post Office or wait for someone to pick up your orders. We will also provide you with tracking information to get real-time updates on delivery status.
You don't have to pay a penny beforehand! Once your customer orders some items from your web store, you will place that order with us and your customer will pay you for it! We ship the orders and you make the profit!
While we do most of the work behind the scenes for you, we will be sure that your customers remember that they are doing business with YOU. They will be shopping through your web store, the shipping labels will show your business. Information you provided to us will be kept confidential.